http://thepixzine.co.uk/article_view.php?article_id=331
SKIPtheatre posted by P.i.X on the 03/10/08
SKIPtheatre are Charlotte Croft, Laura Hemming-Lowe and Chloe Stephens - three young artists intent on dragging theatre skipping into the 21st century. Their omnipresent skipping ropes have twirled and whirled at nearly every night worth going to, fashion shows, and if that's not enough they can even be seen in Hatcham Socials 'So Happy Making' video. They've wooed passers by with their skipping demonstrations, dispensing free ropes amongst the mingling masses so we decided to get tangled up in their ropes long enough to ask them a few questions.
P.i.X: What was the motivation for starting SKIPtheatre?
Skiptheatre: To push the conventions and break down the barriers between music, fashion, art and theatre. We wanted to bring elements of theatre to an audience of young adults, music fans and party goers. We want to break away from conventional theatre and work in new spaces and for new theatre audiences.
P.i.X: You worked with Neils Children for a collaborative show at Offset,
have you done much work with bands before?
Skiptheatre: We first started collaborating with DJ's and then started working alongside bands. We performed in Hatcham Socials music video "So So Happy Making" directed by Nicola Probert and later collaborated with them to create an onstage version of Lewis Carroll's Jabberwocky for their single launch at the 100 Club. We have also collaborated with Cellist- Lucy Railton and Hip Hop rapper- Illa Man.
P.i.X: How much interaction is there between yourselves and the bands/DJ's
etc you perform with? Is it quite discussed and collaborative or do
you work in relative isolation and interpret the music in your own
way?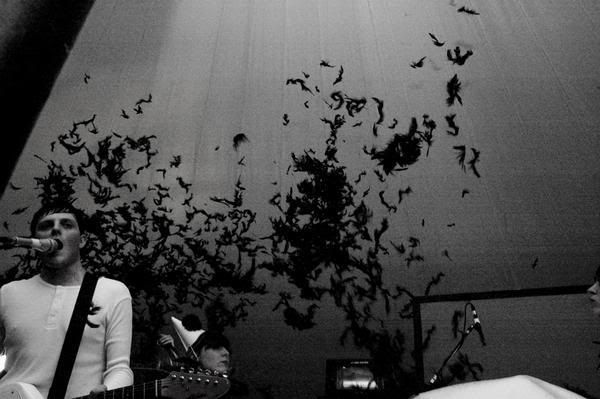 Skiptheatre: We have worked in both ways. For the performance with Neil's Children at Offset they gave us complete freedom to create our own interpretation of the song. It came together for the first time live onstage! It's exciting working in this way because you end up having to change things at the last minute due to lack of space, you have to be adaptable. When we worked with Hatcham on the Jabberwocky we had quite a few discussions about costume and performance style, we also had a few hours with them in a studio to rehearse prior to the show. It was good to work closely with them, especially as we were using our voices for that performance.
We'd love to work with bands over longer periods of time to create new pieces of work that become more like a dialog between the performer and the music.
P.i.X: Whats your record number of skips with a rope??
Skiptheatre: Laura's is about 200 (pretty rubbish - she needs to give up smoking) We can all skip non-stop for about 3 minutes…. But we havn't counted how many jumps that is!
P.i.X: What would be the dream site/environment/collaboration for a
SKIPtheatre performance?
Laura- The La Sagrada Familia in Barcelona... huge huge huge performance party... the most beautiful, interesting and challenging space to work in!
Charlotte- Collaborating with Bjork on a performance in an ice place in her native Iceland with the Aura borealis as our lighting! It would have to be filmed with a live feed back to the UK, and projected onto the Tate Modern for all who could not be in Iceland, a UK/Iceland party!
Chloe- I'd love to collaborate to create a performance with Vivienne Westwood, maybe in an abandoned old building somewhere in Engand. She's recently worked with a theatre company called Knee High, she's got a great imagination and sense of theatre.